So, we know I love a mini ecosystem. My home-made terrariums are my beloved babies (more here).
But this ecosphere takes it to a whole new level:
It's an enclosed ecosystem, complete with "shrimp, algae and microbes" and has a lifespan of three years, when you send it back for recycling (or just let it hang around at your place being, I imagine, manky). Still, could do with some sort of tacky plastic ornamentation. Say, a mini Elvis.
Meanwhile, this one:
comes in a little DIY kit, with "rocks, plants, livestock (shrimp/snails)". Although if, as they suggest, I put it on my desk at work, I'd be likely to drink out of the glass.
Now, while cool, it's still all a bit tasteful. It may or may not deserve to end up on fuckyournoguchicoffeetable.tumblr.com.
Now, while I joke that these don't have enough dinosaur toys and mini llamas for me, the tacky side of terrariums isn't my cup of tea either: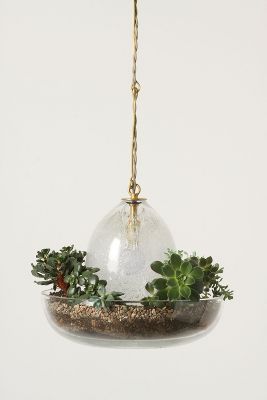 I hate this so much. But then, I hate all sorts of Anthropologie lighting products.
UPDATE: This has just been drawn to my attention: